View all the entries into the 2015 LAALcomp here, with information from their creators and links to their books on the Living Archive website.
Click here for an overview of the competition.
iBooks Author – for Apple devices only
A number of entries into the LAALcomp used iBooks Author to create their entries. Currently we can't display ibooks within our archive, as they only play on Apple devices (but we are working on a solution for our website), but you can download them here and play them on your own device.
Gitkit ga Wäluŋu in Warramiri from Gäwa (Elcho Island)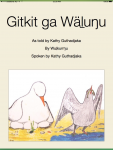 Entered by Kathy Gothadjaka from Elcho Island.
From the author: "Gitkit ga Wäḻuŋu (The Common Tern and the Frigate Bird) is an important story for Warramiri people. It teaches the kids how to speak language. I recorded an old lady telling the story, then wrote the text and recorded it. Ranhdhakpuy drew the pictures, and Colin put it together using iBooks author."
Download the ibook file here (Gitkit) to open on your Apple device
Ngay-ka ngurrinidha ku kurnern-nu from Wadeye
Entered by Tess Ward from Wadeye from the text Ngay-ka ngurrinidha ku kurnern-nu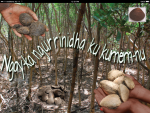 in Murrinh-Patha language
From the author: "I was taken for mussels in mangroves by a family and I was amazed at the children's ability to spot the mussels camouflaged in the mud. I thought it was a fun way to use the hunting trip as a way of introducing counting to the very early years. I took photos on the trip and reduced the size in Photoshop. I used ibooks author to create the digital story and at the end used widgets from ibooks Author and iAd producer to give some interactive activities for the children."
Download the ibook file here (Ngay-ka) to open on your Apple device
Miyernu nangkal nukun from Wadeye
Entered by Tess Ward from Wadeye from the text Miyernu nangkal nukun in Murrinh-Patha from Wadeye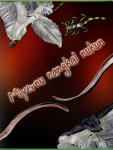 From the author: "It is a fun, inquisitive text for very early years. I typed the text, then an artist drew pictures. I scanned them and reduced the size in Photoshop. I used ibooks author to create the digital story and at the end used widgets from ibooks Author, Bookry and iAd producer to give some interactive activities for the children."
Download the ibook file here (Miyernu) to open on your Apple device