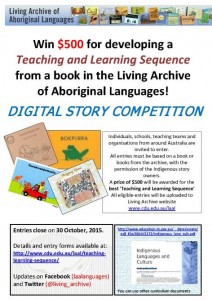 THE COMPETITION IS NOW CLOSED.
THE WINNER IS CARMEL RYAN FROM LTYENTYE APURTE SCHOOL (SANTA TERESA). CLICK HERE TO SEE THE WINNING ENTRY.
A sub-category of the #LAALcomp encourages teachers and others to create a learning resource using materials from the Living Archive.
It may be submitted in any format (eg Word doc, PDF, epub, webpage, video, etc) and should be ready to use in a classroom. It must be linked to a specific section of the Australian Curriculum or other curriculum document, such as the NT Curriculum Framework for Indigenous Language and Culture.
All entries must be based on a book or set of books from the archive, with the permission of the Indigenous story owners.
A prize of $500 will be awarded for the best 'Teaching and Learning Sequence' as judged by a panel of experts.
All eligible entries will be uploaded to Living Archive website. Terms and conditions here
Entries close on 30 October, 2015. The entry form is available here.
Contact us if you have any questions.