2017
Article by ABC Darwin about the Living Archive project 30 October 2017 
interview on Talkblack Radio in Cairns, relayed through National Indigenous Radio Service, 1 Nov 2017
2016
Radio National AWAYE! Indigenous arts and culture program, 6 February 2016
08 February 2016 – Interview with Territory FM's Daryl Manzie. Listen HERE
2015
NITV website 17 December 2015: An Indigenous 'Krismis Stori': Preserving language and history
Living Archive Digital Story competition – 2015
Project manager Cathy Bow speaks to ABC Radio Darwin about the results of the #LAALcomp – listen here.
CDU media release: Indigenous clam story snares prize
Story reported in the Koori Mail 16 December 2015
Guardian article by Jane Simpson includes mention of the Living Archive project: Racing to record Indigenous languages under attack from 'onslaught of English' 20 August 2015
Indigenous languages archive showcased to global audience 
Radio interview with Territory FM (Darwin) 23 March 2015
CDU media release 5 April 2015
Koori Mail 8 April 2015
Sydney Morning Herald Obituary: Jeannie Nungarrayi's skill in the Warlpiri language made her an advocate for bilingual programs (February 5, 2015) (also here)
2014
Christmas stories in the Living Archive:
Interview on 8HA radio Alice Springs and CAAMA radio 19 Dec 2014
Michael Christie interviewed on Radio Australia, 21 November 2014. New bid to preserve indigenous languages in Northern Territory
Feature article in Australian Research Council's 2013-2014 Annual Report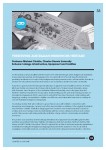 Race relations: where from, where now, where to? Alice Springs News Online 19 August, 2014
ABC Open video: A passion for Yolngu Matha language (footage recorded at the Batchelor Gathering, July 2014)
Project officer Haidee interviewed on TEABBA Radio (July 2014)
Video of the Darwin launch of the Living Archive project available at http://vimeo.com/91681907
Article in The Conversation, April 7, 2014. Some vital signs for Aboriginal languages.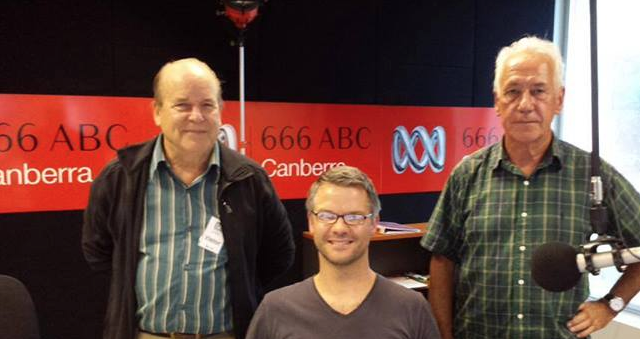 L-R Dr Brian Devlin, Adam Shirley, Professor Michael ChristieAdam Shirley from ABC 666 Canberra interviewed the project team prior to the national launch on 6 March 2014. Listen to the interview here.
2013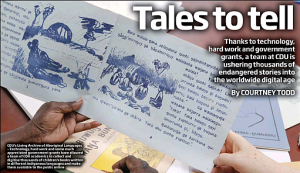 NT News Sunday Territorian, 17 November 2013 featuring an interview with Chief Investigator Dr Brian Devlin about the second round of funding received for the project. Read the article here.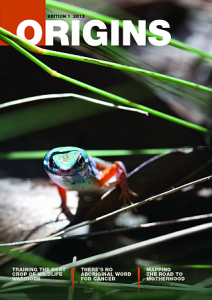 Charles Darwin University Origins magazine in July 2013 explains some of the story of the Living Archive project. Read the article here.