Project manager Cathy Bow reports on a great conference in Melbourne this month.

The fifth biennial Puliima National Indigenous Language & Technology Forum was held in Melbourne last week. This is an amazing opportunity to bring together interested practitioners from around the country to share ideas and tools, projects and encouragement.  The forum has a very relaxed feel, with opportunities to 'show and tell' about interesting projects and make connections with people across this close-knit but welcoming community. There were over 230 people attending from around Australia and some visitors from overseas.
The plenary sessions took us around the world – from documenting important musical traditions on the Tiwi Islands, to New Mexico USA, where the Santa Fe Indian School is developing programs for students to learn their languages under Indigenous authority, to New Zealand where an Indigenous model of curriculum has been developed for Māori students. There were other opportunities to hear about a range of apps and programs being produced in different language centres and community organisations all around Australia, as well as what's happening at state and national libraries, and within Universities. 
I had the privilege of being involved in two presentations during the forum. The first involved a panel discussion entitled "An open and shut case? Protecting rights and promoting access to Indigenous language materials" – I'll post about that next week. The other was presented in conjunction with Michael Roseth from italk library demonstrating their suite of resources in a number of Indigenous languages and how you can add your own langua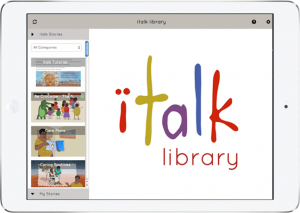 ge to these high quality videos and stories about contemporary issues. We also showed how you can use the italk library iPad app with books from the Living Archive to create talking books – it's super easy to add audio and do translation on the fly. Thanks to Millika from Wurrumiyanga who added some Tiwi audio to a book as a demonstration.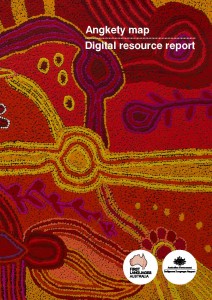 It was also lovely to see the fantastic new resources published by First Languages Australia – particularly the Angkety map Digital resource report (which features the Living Archive on page 18) and Warra: Building teams, building resources (we're on p77 of that one). Plus they also launched the excellent Gambay: Australia's first languages map which includes lots of information behind the scenes, and can be edited by users. Good to see high quality and informative publications that will really help people working in this field.
I was especially pleased to see a a number of attendees at the forum from the Northern Territory, including people from Wadeye, Tennant Creek, Ngukurr, Harts Range, Bathurst Island, Maningrida and Groote Eylandt, as well as Darwin, Batchelor and Alice Springs. In many of these locations languages are still being spoken, so the issues are different from some other places where there are only documents and recordings left.  Every situation is quite different, so it was encouraging to see people recognise that they were not the only ones facing some of these challenges, and ideas and encouragement could be shared with people from different perspectives.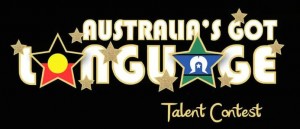 The second 'Australia's Got Language' competition was held on the Wednesday evening, and showcased some incredible talent, as different performers sang in their traditional languages, or performed comedy or told stories.
Thanks to Daryn and the Puliima team for making everything run so smoothly, and to the sponsors for supporting such an important event. Check out their Facebook page for photos and more information.