Each year the National NAIDOC Committee selects a theme for NAIDOC week (first week of July). This year's theme of "Our Languages Matter" focused on "the importance, resilience and richness of Aboriginal and Torres Strait Islander languages" aiming "to emphasise and celebrate the unique and essential role that Indigenous languages play in cultural identity, linking people to their land and water and in the transmission of Aboriginal and Torres Strait Islander history, spirituality and rites, through story and song." (http://www.naidoc.org.au/2017-national-naidoc-theme).
In Darwin it was a busy week for us at the Living Archive of Aboriginal Languages, as we worked with the Northern Institute at Charles Darwin University to organise an event to celebrate "Why our languages matter" with special guest speaker Dr Waymamba Gaykamaŋu. Over 65 people gathered to hear her speak about Yolŋu language and culture, and after a break for a cup of tea and a chat, other Indigenous researchers and authorities gave their thoughts on why languages matter, including Dr Payi Linda Ford of the Mak Mak Maranungu group (who was also interviewed on ABC radio about the event), Richard Fejo of Larrakia nation, Yirriṉiṉba Dhurrkay of Raki Mala research, Julie Turner from Cherbourg, and Kathy Guthadjaka from Gäwa. We also got to enjoy seeing Gotha's work with the Wiggles, where she taught Dorothy the Dinosaur some words of Warramiri and they sang a song together, and when Henry the Octopus visited Gäwa. The ABC took an interest in this, and interviewed Gotha on the radio
The other exciting event of the week was the launch of the book "History of Bilingual Education in the Northern Territory, edited by one of the chief investigators of the Living Archive project, Dr Brian Devlin, along with Dr Samantha Disbray and Nancy Devlin. This important book has just been published by Springer, and was launched by the wonderful Professor Tom Calma, who back in 2014 also launched the Living Archive project in Darwin. This week's book launch was a lovely celebration with many of the contributing authors in attendance, and others interested in issues surrounding bilingual education. Professor Calma even singled out the final chapter in the book, written by the Living Archive team, about the history and current status of the many books published in Literature Production Centres during the era of bilingual education, and their journey to digital formats on the Living Archive website.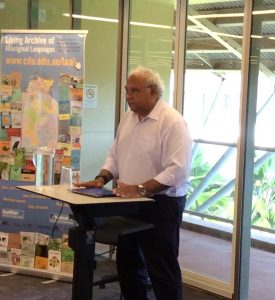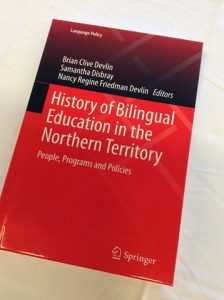 Also this week our project manager Cathy Bow presented her proposal for PhD research into the role of digital language resources in Australian Indigenous languages, which will focus on the Living Archive project as well as the Digital Shell project.
On Saturday afternoon as part of the Darwin Fringe Festival we enjoyed another Treasure Language storytelling event, this time focusing on Indigenous language. After some initial talking about Why Languages Matter, we heard some traditional stories from Magdalen Kelantumama of the Tiwi islands told a creation story. Magdalen is a wonderful storyteller, and there are lots of her stories in the Living Archive, if you'd like to read some other stories like this. Then Yirriṉiṉba Dhurrkay told a story in Dhaŋu language, translated by Sylvia Ŋulpinditj , then an elder from Dhalinbuy told another story, which was accompanied by a buŋgul (traditional dance), which got many members of the audience up and dancing. What an incredible opportunity to experience traditional forms of storytelling and ceremonial activity in a theatrical space. Can't wait to see more photos soon.
On social media and other media we had a hard time keeping up with all the activities around the NT, much less nationally. I won't even try to list them all but I do want to highlight just two. There was an article on The Conversation in Warlpiri language, about the significance of the Jukurrpa for Warlpiri people, and ICTV showed a documentary called Talking in the Top End  about last year's Kriol workshop.
And that was just the events we got to attend, though we were very disappointed to miss out on the launch of Batchelor Institute's CALL collection, with whom we've had a close and fruitful association (check out the collection here), plus the pop-up Arrernte language classroom in Alice Springs, and the NTLibrary's wiki event, CDU's NAIDOC Night at the Movies, and even a NAIDOC week march through the streets of Darwin.
Even though NAIDOC week is officially over for the year, there are still a few related events coming up. At CDU's Northern Institute this week we will hear from Professor Michael Walsh about how "Indigenous languages are good for your health", and next month our colleagues from CDU's School of Indigenous Knowledges and Public Policy will hold a language-focused event, and there is some work happening to celebrate some of the Indigenous language champions who have contributed so much over many years. So stay tuned for more celebrations of why Indigenous languages really do matter!