Noella Goevas, a teacher at Ngukurr School writes:
"We are reading books about dogs. So looked for a Kriol on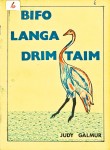 e on the Living Archive website and found Angriwan Dotdot. Read it aloud to the kids with the (Kriol-speaking) Teacher Assistant who said I didn't need any correction (yay) and you should have seen my kids… They were at such ease… I was asking them to recount and they were recounting with 100% accuracy. Then they asked for more! "Naja Kriol one". So we read Bifo Langa Drimtaim. Such a long story but they didn't care… They were right into it. Such a crazy good feeling. I had kids who rarely speak answering questions. There. Done."
Send us your stories about using the materials in the archive!