A few e-books have been made with the agreement and help of language and story owners. These will be uploaded alongside the original stories for others to enjoy. One of these will an e-book about making dillybags (bathi) from strips of pandanus. This story was written, illustrated, translated and read aloud by Elizabeth Milmilany Dhurrkay (Räkay).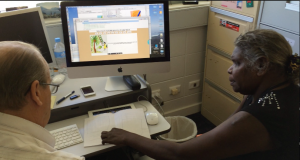 Räkay has now been working with Dr Brian Devlin to produce a version which can be read using a web browser, mobile phone, tablet or computer. (To see an early draft please go to bathi.netii.net). This has been very much a team effort. Cathy Bow segmented the sound files. Brian prepared an HTML5 template to integrate the audio, text and images.
A colour coding scheme was developed at Milingimbi to indicate the reading levels of printed books produced for use in the bilingual program. One interesting question is whether the ebooks that go into the LAAL archive should also use the same scheme.